We will help you to
feel
better,
look
better and
live better
.
Our online course is the result of our (two sisters) collective wars and triumphs over weight and flab. Kim lost 125 pounds/57 kilos, after battling her weight since age 10 and reaching a maximum weight of 275 pounds/125 kilos. Darcy went from being a sedentary cookie dough addict to personal trainer with a M.S. in Public Health.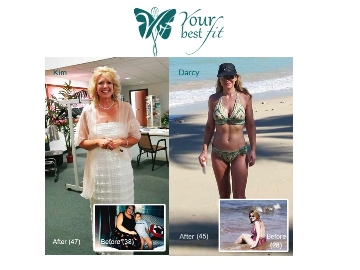 We know what it is like to carry too much weight and feel bad.
We know what it is like to live life less fully than you would like.
We know what it is like to try diet after diet, fad after fad, only to end up in the same place (or, often times, worse place).
Diets and fitness fads do not work. Even if you lose weight on a prescribed diet, drinking some concoction, eating prepared foods, or taking pills, the weight loss is often difficult to sustain because the way you achieved it probably was not much fun (and perhaps not very healthy) and not something you would want (or are able) to sustain.
(We know. We have pretty much tried every diet ever created.)
We know what does work, and let us tell you: Losing the weight and getting fit in a healthy, empowering way enhances your life far beyond fitting into a smaller pair of jeans or being able to walk up stairs without your heart palpitating from exertion.
(Although smaller jeans and being fit feels pretty good, too.)
We are passionate about guiding and supporting you to achieve your weight and fitness goals for life.
As part of our 6-week guided course, you will be supported by...
Daily Lessons: Lessons will be delivered daily to your e-mail inbox with a link to our password-protected Your Best Fit course website.
Members Only Course Website: Access the website and your daily dose of inspiration from your computer, iPhone, iPad, or other smart device. Log in and read OR listen to the lessons, or explore the wealth of tools and resources we have provided to help you along your journey.
Live Support: Our members only, private Facebook group means you can get the support you need on a timely basis. We also share with you items of interest that we think will inform, motivate or inspire you.
Weekly Check-In: Your Best Fit is about small steps to BIG success. Our weekly check-in provides the added boost you may need to stay on track, or use them to celebrate small, or BIG, successes. You decide how you "check in." This is all about positive support and is judgment-free, so set aside any fears or worries you may have about "checking in." (We also check in weekly.)
…AND the support continues after you have completed the 6-week course…
Repeat the Course: Because we e-mail you every single lesson that is on our course website, you will always be able to refer back to your e-mailed lessons whenever you want to revisit a topic or just need an added boost of motivation.
Stay Connected: Once a member, always a member. Our Your Best Fit Facebook group is like a family and, as a member, you are part of it! Stay connected and continue to get information, support, and feedback.
Ongoing Weekly Check-Ins: We show up every week for check-in, and so can you. In fact, we hope you remain an active member of our online community indefinitely!
You will get all of that for just 99 USD (Approx. 63 GBP).